Dogs are predators with pointy teeth and bone crushing jaws. Yes – even the cutest, cuddliest, button-nosed munchkin is a serial killer at heart. And they live in our homes.
This mercilessly self-centred yet sociable species gave us a leg up when we still had much more to fear from the equally merciless Mother Nature. Dogs helped our ancestors track and catch prey, protected them from other sharp-toothed predators, provided a public health service in form of waste removal and proved their mettle in bovid crowd control.
But many of the historical jobs for dogs have been on the decline due to our advanced technologies and changed lifestyles. Although dogs can still showcase their outstanding abilities in some specialist fields – such as drug detection, search & rescue, conservation – the vast majority of dogs are unemployed. Yet they are still around in large numbers. The reason, of course, is that we turned them into pets.
Seriously, who wants to be a pet?
When dogs became pets, their roles changed but their nature did not. Instead of using and appreciating their unique skills, we became engrossed with their looks and cuddliness. In the process of narrow-focused breeding we robbed many of them of their good health and quality of life. Their tendency to still behave like dogs started to be frowned upon and these days it is not uncommon that their barking, chewing, chasing, digging, jumping, growling, snarling and biting is labeled abnormal. Dogs are suspected to have psychological problems when in fact their only problem is us!
The dogs of old gave us their unique skills in exchange for food and shelter and, in many cases, were otherwise free to roam and be dogs. They could roll in the grass, follow a scent and chase after a critter whenever they pleased. In short, they had the freedom to satisfy their needs and wants, largely without constraints. In contrast, the modern domestic dog typically has to learn how to access the things they need and want by either using us or bypassing us – whatever is easier. At the same time, they cannot easily escape our presence. This can readily trigger fight, flight or freeze behaviour, including aggressive displays, whenever we accidentally or intentionally frighten them. And the behaviour problems follow.
So we invented pet dog training to help with the resulting frustrations. Except, while we can easily formalise our own annoyances with the other party, we really struggle to understand what's going on in our dogs' heads. But without understanding the nature of the dog, against the backdrop of their evolutionary history, there is no way we can ever make up for taking their freedom away. Forcefully trying to shoehorn dogs into our human lifestyles – which is what pet dog training has mostly been about – has caused a lot of confusion and misery for a lot of dogs. Our biggest mistake is that we routinely assign thoughts and intentions to our dogs which exist in our imagination only.

We can be better than this!

We all have the power to make the world a better place for dogs. We can allow them to be dogs again and resist the urge to interpret their behaviour as if they had human thoughts and motives. We can embrace who they truly are. Can you? Here is your leg up:
Your dog is a dog and has no ulterior motives.
When your dog drags you down the sidewalk towards the next fence post, they demonstrate their most impressive canine skill: To be able to smell stuff that is nowhere near our radar. And, unfortunately for us, it means we frequently drop off our dog's radar.
Ignoring you, as insulting as this may feel, is not a matter of attitude in your dog, it's a matter of biology. To make things work for both you and your dog, try to rid yourself of any lingering ideas about your dog's unsavoury motives and start using your analytical skills. It's what we humans are good at, right?
If you still believe your dog looks to you for leadership or tries to challenge your status and you base your dog's training on that belief, stop wasting your time. Dogs are opportunists. They try to figure out how they can access the things they want and if they find a way, they'll stick to it. Now, it happens to be the case that we can offer most of the things that dogs want, e.g. food, play, going for walks and sniffing. They want it, we can provide it. Tada! No need to bring relationship counselling into what is essentially a supply & demand model where the supplier – we – can set the price.
By taking the relationship aspect out of dog training, we can stop the blaming and the speculations. And, by playing fair and being generous, we can get our dogs to love our brand and come back for more.
Know your dog's specific skills and [let your dog] use them.
Use your dog's natural skills and behaviours to reinforce them for the behaviours that are important to you. Again, use your smart forward thinking before you feel negative emotions that cloud your judgement. Think of it as making a deal with your dog:
"You adjust your speed to mine instead of pulling me off my feet and I will let you sniff at that tree; you come to the kitchen instead of barking at the delivery person and you get a tasty chew; you bring me a Frisbee when you feel the urge to chase the kids and I throw it for you".
When trying to understand your dog based on their particular breed, look for energy levels and certain traits that have been enhanced for specific tasks, such as stalking and chasing in herding dogs or going underground and killing critters in terriers. Knowing what to expect can prevent frustration and misdiagnosis. Not to mention panic, in case you thought your Border Collie was aggressive for chasing and nipping the children.
If your dog is a mixed breed, don't bother. The result of mixing genes is too unpredictable to allow for any useful predictions in regards to your dog's behaviour. Your dog is much more than a result of breeding and inherited genes. Individual gene expression and environmental influences are what ultimately shapes your dog's individual character.
Get to know your dog and be the best friend you can be.
What does your dog love and what do they fear? Your dog's body language is the most valuable tool to gauge their possible emotions, motivations or intentions. Become an expert in your dog's body language by educating yourself through qualified sources rather than relying on folk knowledge. The more often you can make that tail wag, those ears perk up and those eyes sparkle with anticipation, the more your dog will pay attention to you and make you part of their decision making.
Signs of stress, fear and anxiety in dogs are so commonly missed or dismissed that it poses a wider animal welfare problem. Fortunately, modern technology and increased scientific interest in the domestic dog have been delivering fascinating facts on canine brain & behaviour, which is changing the ways we treat and train them. Companion animal professionals across the board are taking this knowledge from the lab into vet offices, dog training schools, grooming salons and more. You can be part of the change by pro-actively choosing force- and fear-free practitioners to protect your dog from fear and pain.
Your dog is a unique creature. A dog who suddenly found themselves in your home and tries to adapt as best as they can. A mind, although at basic level quite similar to yours, preoccupied with its nature as hunter and scavenger, lacking our societal rules and moral values. A character that you have the unique chance to get to know and love better than anyone else. Enjoy the journey.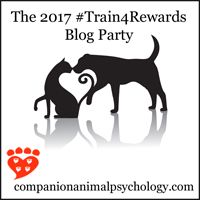 RESOURCES
Copyright secured by Digiprove © 2017 Sylvie Martin